Apple Mac repairs for Apple users in the UK
Are you looking for specialised Apple Mac repair services but you're not sure where to look? Get professional advice and effective computer repair solutions from Creative IT on 020 7237 6805.
Creative IT is a well established computer support, laptop repair and Macintosh support service provider based in London. Our range of professional services is designed to keep you working productively and cost-effectively. We provide high grade services to Apple home users, small/large businesses, government offices, educational institutions and corporate companies.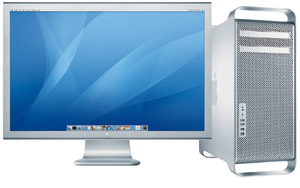 Our team of expert IT technicians can provide a fast Macintosh service by diagnosing hardware and software faults on all Apple Mac computers and laptops. After the initial diagnostic, we will either repair or replace the defective part. We also provide installation and upgrading of custom software, latest antivirus software, operating systems and hardware installations.
Same day Macintosh services
Creative IT can improve the overall system performance of your Apple Mac or fix any issues while you wait. We use the latest IT equipment and software as well as firewall, data recovery and backup tools to provide a fast Macintosh help to all Apple users.
We specialise in Apple Mac repair for all models Apple computers and laptops including IMac, Mac Mini, Mac Pro, MacBook, MacBook Pro and MacBook Air.
We provide our Apple Mac repair services to both in-office and home desktops. All the repairs carried out are done in our Central London workshop. The IT services we provide for our Macintosh customers include:
• On-site pickup and delivery
• Diagnostic
• Data recovery, including physical hard drive recovery, and transfer of files
• Repair of all software and hardware faults
Our IT services also include troubleshooting and repair of other PCs and servers, installing and upgrading antivirus, anti-spam and anti-spyware. We undertake the repair of all the components of your Apple Mac computer including motherboard, hard drive, video card, processor, power supply, LCD / LED screen, keyboard, sound card, PCI slot, USB port and more. We can also diagnose and repair problems occurring in Mac peripherals such as printers, scanners and web cams.
Don't hesitate to call us on 020 7237 6805 or email us at info@creativeit.net if you need immediate Apple Mac repair services.