Sony VPCEA Series Repair Experts
Does your Sony VPCEA series laptop necessitate a repair or upgrade? Then Creative IT is the right place for your Sony VPCEA series repair requirements. No matter you are a home user, small business user, or a corporate client, we at Creative IT pride ourselves in serving as your one stop destination for all of your Sony laptop support requirements. With good experience in the laptop repair scenario spanning over 15 years, our esteemed clients can be assured of our top attention as well as quality Sony laptop repair services at all times.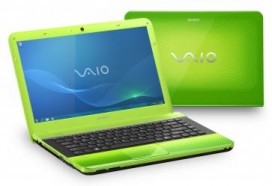 Apart from usual Sony laptop repair services, we can also upgrade and fix any mobile computing system down to the component level including the replacement of faulty DC power jacks and defective video and graphic cards without going in for an expensive replacement of the whole motherboard. Find below the services, among many others, that we offer for your Sony VPCEA series repair and upgrade requirements for VPCEA1C5E, VPCEA1S1E/B, VPCEA1S1E/G, VPCEA1S1E/L, VPCEA1S1E/P, VPCEA1S1E/W, VPCEA1S1R/B, VPCEA1S1R/G, VPCEA1S1R/L, VPCEA1S1R/P, VPCEA1S1R/W, VPCEA1Z1E/B, VPCEA2C5E, VPCEA2M1R/BJ, VPCEA2M1R/PI, VPCEA2M1R/WI, VPCEA2S1E/B, VPCEA2S1E/G, VPCEA2S1E/L, VPCEA2S1E/P, VPCEA2S1E/W, VPCEA2S1R/B, VPCEA2S1R/G, VPCEA2S1R/L, VPCEA2S1R/P and VPCEA2S1R/W notebook models.
Data restoration and back-up
Data transfer to the media of your choice
Adware and virus detection as well as removal
LCD and LED screen replacement
LCD backlight repair and replacement
LCD hinge and inverter replacement
Battery replacement
Memory and hard drive upgrade
Processor and video card upgrade
Component level repair
Motherboard repair and replacement
Resolving Internet and Email related problems
Software troubleshooting and installation
Operating system troubleshooting and installation
You can either stop by to drop in your out of order Sony laptop to our repair centre in Central London or just give us a ring if you want us to arrange pick-up or drop off services. Our usual operating hours are from 09:00 and 18:00 and you can approach us with your Sony laptop repair requirements six days a week. For specific queries on our specialist London
Sony VPCEA series repair
and upgrade services, you can also forward us an email to
info@creativeit.net
 or call us on
020 7237 6805
.