Sony VGN-SR Series Repair
Welcome to Creative IT - the quickest service provider for your
Sony VGN-SR series repair
and upgrade needs in London! We are a nationwide
Sony laptop repair
centre that has been serving both residential and business clients for over a decade. On acceptance of your defective laptop, our highly knowledgeable team makes use of the most advanced diagnostic techniques to pinpoint your laptop's problems and then provide you with a highly competitive repair estimate. Once the estimate is approved, we fix it and return to you within a day or two. With a huge inventory of compatible parts including hard drive, motherboard, LCD screen, graphic processor, and memory, we can also upgrade your existing laptop, thereby helping you to enjoy the latest music files, high definition games files, and most advanced business applications.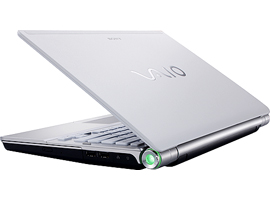 Listed below are the prominent of the London Sony VGN-SR series repair services that we offer for VGN-SR11M, VGN-SR11MR, VGN-SR19VN, VGN-SR19VRN, VGN-SR19XN, VGN-SR21M/S, VGN-SR21RM/H, VGN-SR21RM/S, VGN-SR29VN/S, VGN-SR29XN/S, VGN-SR2RVN/S, VGN-SR3, VGN-SR31M/S, VGN-SR37M, VGN-SR39VN/S, VGN-SR39XN/S, VGN-SR4, VGN-SR41M/P, VGN-SR41M/S, VGN-SR41M/W, VGN-SR46Z, VGN-SR49VN/H, VGN-SR49VT/H, VGN-SR49XN/H, VGN-SR4MR/P, VGN-SR4MR/S, VGN-SR4MR/W, VGN-SR4VR/H, VGN-SR5, VGN-SR51MF/P, VGN-SR51MF/S, VGN-SR51MF/W, VGN-SR51RF/P, VGN-SR51RF/S VGN-SR51RF/W, VGN-SR56XN, VGN-SR57S, VGN-SR57V, VGN-SR57X, VGN-SR59TG/H, VGN-SR59VG/H and VGN-SR59XG/H notebook models.
Component level repair 
Motherboard replacement
LCD screen replacement 
LCD backlight and inverter repair / replacement
Hinge repair and replacement 
Power supply repair
DC power jack repair and replacement 
Keyboard repair and replacement
Touchpad repair and replacement
Virus and Malware removal 
Antivirus installation
Data recovery and back-up
If you don't want to carry your defective laptop to our Central London repair centre, we can make arrangements to pick it up from your home or office and get it repaired at our advanced store and deliver it back to you - all for a nominal charge!
Request for a competitive quote for our specialist London Sony VGN-SR series repair and upgrade services by contacting us on 020 7237 6805. We are open Monday through Saturday from 09:00 to 18:00 hrs. You can also take advantage of our live chat facility or email address: info@creativeit.net to check out more details of the services that we offer at Creative IT.