Sony VGN-FJ Series Repair
Does your Sony VGN FJ series laptop take a long time to boot up?
Do error messages pop up on your laptop?
Do you think that your laptop is attacked by an Adware or Spyware?
Dead motherboard or component level problems?
Well, we at Creative IT can help you with unparalleled Sony VGN-FJ series repair services. However what we offer is more than just laptop repair; we also provide remarkable upgrade and replacement services for improved performance of your laptop. We are based in Central London, and the prime mission of our highly dedicated and professional team is to provide our clients spread across the UK with economic, honest and fast Sony laptop repair and upgrade services that will meet your utmost expectations.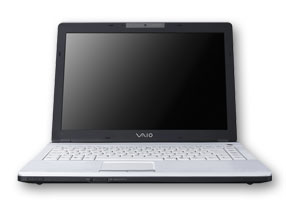 This is how Creative IT deals with a laptop repair or upgrade service:
We welcome you to drop off your defective laptop to our repair centre or can arrange pick up and drop off services based on your requirements.
We will thoroughly diagnose your laptop to detect the problems and provide you with a competitive repair estimate.
If it requires an upgrade or replacement, we will provide you an outline of the charges for the components, along with a detailed explanation of the problems.
Once the quote is approved by our clients, in most cases we fix it on the very same day or sometimes next day and return it to you by professional courier services.
The services we offer as part of our expert London Sony VGN-FJ series repair, upgrade and replacement services for VGN-FJ1S/L, VGN-FJ1S/R, VGN-FJ1S/W, VGN-FJ1SR/B, VGN-FJ1Z/W, VGN-FJ3M/W, VGN-FJ3S/W and VGN-FJ3SR/B notebook models are LCD screen replacement, motherboard repair, DC power jack repair, fixing internet and email problems, virus removal and installation of the latest antivirus software, and memory and hard drive upgrade, among many others.
Please call us on 020 7237 6805 or email us at info@creativeit.net to see how we can help you with our specialist London Sony VGN-FJ series repair services. We expect to hear from you and be your service provider for complete laptop issues.