Sony VGN-FE Series Repair
Are you disappointed after having dealt with an unreliable and incompetent laptop repair service provider? Then get in touch with Creative IT, a Central London based Sony laptop repair centre. You can have confidence in our experienced team of technicians for your entire Sony VGN-FE series repair and upgrade requirements. The reasons, among many others, why a substantial number of clients from across the UK rely on us to handle as well as support their IT requirements are: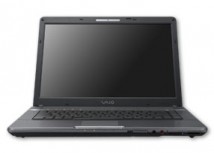 Flat fee pricing structure 
Exceptional, courteous and professional service
Competitive quote prior to starting any work
Same day specialist solutions 
Guaranteed customer satisfaction
Work team with experience of 15 + years 
Is your laptop running slow or not working at all or do you believe that your laptop is attacked by a virus or malware? Let us fix your laptop issues, whatever it is! With a huge inventory of branded as well as compatible laptop spare parts in-stock, our affordable upgrade and replacement service are second to none. We not only fix and upgrade your laptop but also advise you on how to better protect your laptop in future.
Here is a short list of services that we provide for your London Sony VGN-FE series repair needs:
Laptop screen replacement
Adware / Malware / Spyware removal
Software installation and set up
GPU repair and replacement
DC power jack repair and replacement
Motherboard repair and replacement
LCD inverter and backlight replacement
Keyboard repair and replacement
Hard drive upgrade
Memory upgrade and replacement
We can effectively troubleshoot and repair all models of the Sony VGN-FE laptop series including VGN-FE11H, VGN-FE11M, VGN-FE11MR, VGN-FE11S, VGN-FE11SR, VGN-FE21B, VGN-FE21H, VGN-FE21HR, VGN-FE21M, VGN-FE21S, VGN-FE21SR, VGN-FE28B, VGN-FE28H, VGN-FE31B, VGN-FE31H, VGN-FE31HR, VGN-FE31M, VGN-FE31Z, VGN-FE31ZR, VGN-FE39VP, VGN-FE41E, VGN-FE48M, VGN-FE49VN, VGN-FE41M, VGN-FE41MR, VGN-FE41S, VGN-FE41Z, VGN-FE41ZR and VGN-FE48E notebook models. So just drop in or deliver your out of order laptop to our repair centre. We can also come to your residence or office to pick up your laptop if you can't carry it to us.
Contact us on 020 7237 6805 or email us at info@creativeit.net, and our professional team can assist you for your entire Sony VGN-FE series repair, upgrade and replacement services