Sony VGN-BZ Series Repair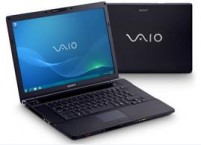 Professional Sony VGN-BZ series repair and upgrade services are just a phone call away. Creative IT is based in Central London; however we provide nationwide services for home users, students, public and private organizations and corporate clients. Our team of highly knowledgeable and skillful engineers and technicians has over a decade's experience in troubleshooting and fixing all kinds of laptop problems, from blue screen of death and system freezing and hanging issues to hard drive crash and malicious virus attacks.
Need an upgrade for your laptop or did anyone tell you that your laptop is of no use and advised you to buy a new one? Get in touch with one of our expert Sony laptop repair technicians to find out how cost effective it is to upgrade your laptop over buying a new, expensive laptop. Mentioned below are a range of services that we offer as part of our London Sony VGN-BZ series repair and upgrade services:
Laptop LCD screen and keyboard replacement  
LCD backlight and inverter replacement
Hard disk upgrade and replacement
Data restoration and migration 
Virus, spyware and malware removal  
Setting up protection against virus attacks 
Display hinge repair and replacement   
DC power jack repair and replacement 
CD / DVD ROM repair and replacement  
Battery replacement
Fan repair and replacement  
Operating system troubleshooting and installation We repair all models of the Sony VGN-BZ laptop series including VGN-BZ1, VGN-BZ11EN, VGN-BZ11MN, VGN-BZ11VN, VGN-BZ11XN, VGN-BZ12EN, VGN-BZ12VN, VGN-BZ12XN, VGN-BZ13VN, VGN-BZ13XN, VGN-BZ2, VGN-BZ21VN, VGN-BZ21XN, VGN-BZ26M, VGN-BZ26V, VGN-BZ26X, VGN-BZ31VT and VGN-BZ31XT models.
You are welcome to visit our laptop repair centre or just give us a call to schedule for a pick-up of your defective laptop. We also arrange for professional services to drop off your laptop as soon as it is fixed. Our usual turnaround time on laptop repairs is one to two days, depending on your residence or business location as well as how severe your laptop issues are. 
Contact us on
020 7237 6805
to know more about what we offer as part of our dedicated London Sony VGN-BZ series repair, upgrade and replacement services. We guarantee that our rates are among the best in the industry. For queries on laptop repair, you can also forward us an email to
info@creativeit.net
. .