Sony VGN-AR Series Repair
Welcome to Creative IT for all kinds of Sony VGN-AR series repair services Since its inception in 1994, Creative IT has grown from its base in Central London to serve residential and commercial clients across the UK. At Creative IT, our core mission is to deliver exceptional maintenance and support required for our customers in the most conversant, rational, practical, and timely manner. Since we have highly competent and knowledgeable staff combined with about two decades' expertise, we assure that your entire laptop repair and upgrade requirements are properly addressed. Some of the factors that make us different from other related service providers are: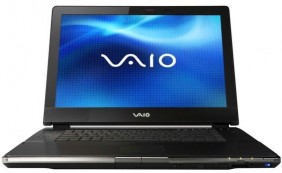 Flat service rates
15 years of business excellence
Same day services
Professional team
Guaranteed customer satisfaction
We provide specialist repair services for distorted video, random characters or blank screen issues due to failure of the NVIDIA graphics chip. We carry brand new DC power jacks, AC adapters, batteries, inverters, LCD screens, memory, and keyboards at cost effective rates. Hence, we can help you with high quality upgrade and replacement services. The services that we provide as part of our London Sony VGN-AR series repair are:
Resolving laptop freezing or crashing issues
Fixing login issues and blue screen of death
Power connector repair and replacement
Data recovery and back up
Virus and Spyware removal
Antivirus software installation
CD / DVD drive repair and replacement
Memory upgrade
Hard drive upgrade
Touchpad repair and replacement
Keyboard repair and replacement
Motherboard repair and replacement
We can troubleshoot and repair all models of the Sony VGN-AR laptop series including VGN-AR11B, VGN-AR11M, VGN-AR11MR, VGN-AR11S, VGN-AR11SR, VGN-AR21B, VGN-AR21M, VGN-AR21MR, VGN-AR21S, VGN-AR21SR, VGN-AR31E, VGN-AR31M, VGN-AR31MR, VGN-AR31S, VGN-AR31SR, VGN-AR41E, VGN-AR41L, VGN-AR41M, VGN-AR41MR, VGN-AR41S, VGN-AR41SR, VGN-AR51E, VGN-AR51J, VGN-AR51M, VGN-AR51MR, VGN-AR51SRU, VGN-AR51SU, VGN-AR58J, VGN-AR61E, VGN-AR61M, VGN-AR61MR, VGN-AR61S, VGN-AR61ZRU, VGN-AR61ZU, VGN-AR71E, VGN-AR71J, VGN-AR71L, VGN-AR71M, VGN-AR71MR, VGN-AR71S, VGN-AR71SR, VGN-AR71ZRU, VGN-AR71ZU, VGN-AR78E and VGN-AR88E models.
Drop your defective VGN-AR laptop at our repair centre in Central London or else we can come to your office or residence to pick it up and get it repaired within a day or two. Contact us on 020 7237 6805 or email us on info@creativeit.net to get hold of more details on our London Sony VGN-AR series repair, upgrade and replacement services. We are open Monday through Saturday from 09:00 to 18:00 hrs.